Dates and Venues / Participants from China / Registration / Program / Access information / Financial support / Party / Local Organizers
—————————————————————————–
Origin of heavy elements is still a mystery and a big challenge in nuclear astrophysics. Basic nuclear properties, such as mass and life time, are essential to understand the nucleosynthesis. JSPS-NSFC bilateral program between Japan and China has started from April 2017. This program consists of both theoretical and experimental projects related to nuclear mass and life. At an occasion of the kick-off event of this collaboration, we have a collaborative workshop in University of Tsukuba.
The workshop consists of sessions of oral presentations and those of discussion for on-going/future collaboration.
Dates and Venues
June 26-28, 2017
Conference Room A (1F), Center for Computational Sciences, University of Tsukuba
Tsukuba 305-8577, Japan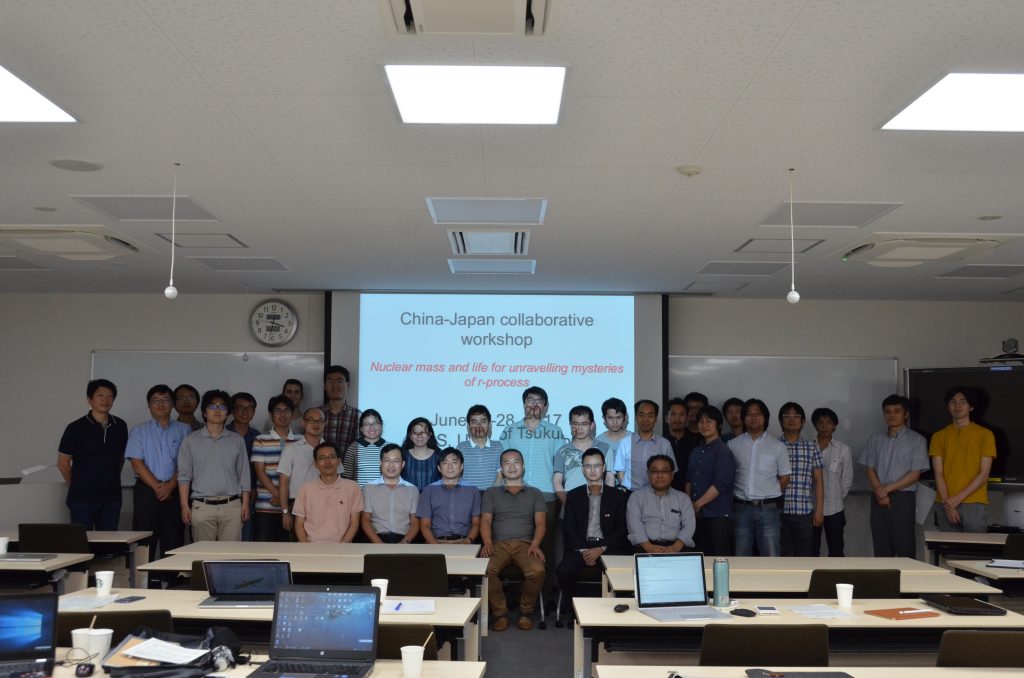 Participants from China
Rui-Jiu Chen (IMP-CAS)
Lu Guo (Univ. CAS)
Min Liu (Guangxi Normal Univ.)
Wen-Hui Long (Lanzhou Univ.)
Yifei Niu (ELI-NP, Romania)
Zhong-Ming Niu (Anhui Univ.)
Li Ou (Guangxi Normal Univ.)
Bao-Hua Sun (Beihang Univ.)
Xiang-Xiang Sun (ITP-CAS)
Kun Wang (ITP-CAS)
Meng Wang (IMP-CAS)
Ning Wang (Guangxi Normal Univ.)
Cheng-Jun Xia (Zhejiang Univ.)
Peng Zhang (IMP-CAS)
Shan-Gui Zhou (ITP-CAS)
*CAS: Chinese Academy of Science
*ITP: Institute of Theoretical Physics
*IMP: Institute of Modern Physics
—————————————————————————
Program
June 26 (Mon)
June 27 (Tue)
June 28 (Wed)
————————————————–
Registration
Participants should fill out the registration form at
https://www2.ccs.tsukuba.ac.jp/cgi-bin/workshop20170626/form.cgi
by June 20th, 2017. The registration is free.
Access information
– From airports to Tsukuba Center
There are two airports, Narita and Haneda, in the Tokyo area. For the access to Tsukuba, Narita Airport is more convenient than Haneda. The direct highway bus to Tsukuba from Narita airport is available roughly every hour, and it takes about one hour. From Haneda airport, there are also direct bus to Tsukuba, but the service is less frequent and it takes about two hours.
– From Tokyo to Tsukuba Center
Rapid trains of Tsukuba Express (TX) Line bring you to Tsukuba station from Akihabara station in Tokyo in 45 minutes. See the following maps:
* Tsukuba Express Line (http://www.mir.co.jp/en/route_map/index.html)
* Tokyo Metro (http://www.tokyometro.jp/en/subwaymap/)
– From Tsukuba Center to CCS and guest house, University of Tsukuba
See the following information: http://wwwnucl.ph.tsukuba.ac.jp/access
– IC cards
If you plan to travel in Tokyo area (including Tsukuba), you may think about having a travel IC card (PASMO/SUICA/etc.) with you. It requires 500 yen deposit, but makes your travel much easier. All you need to do is to touch the card on the machine before and after each journey, for both trains and buses. You can buy it at ticket vending machines in train stations, such as Tsukuba station.
See this page: http://www.mir.co.jp/en/howto_tx/train.html
– More information:
http://www.ccs.tsukuba.ac.jp/eng/traffic-access/
http://www.tsukuba.ac.jp/en/access/tsukuba_access
Financial support
Local fee for Chinese participants in the JSPS-NSFC Bilateral Program are supported by JSPS-NSFC and by Center for Computational Sciences, University of Tsukuba. Unfortunately, the financial support is not available for domestic participants.
Party
A get-together party is planned at the Monday night.
We shall request about 3,000 yen for domestic participants. For supported Chinese participants, it will be supported by the bilateral program.
Local Organizers
N. Hinohara (Univ. of Tsukuba)
T. Nakatsukasa (Univ. of Tsukuba, Chair)
A. Ozawa (Univ. of Tsukuba)
*Contact: japanchina[at]nucl.ph.tsukuba.ac.jp