The CCS possesses 8 research divisions and 34 faculty members, and organizes 6 research project offices and a bureau of public relations to strategically promote and spread "Multidisciplinary Computational Sciences". All faculty members belong to one of the three Graduate Schools for education and "work" at the Center for research.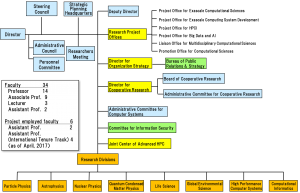 Organization structure of CCS (April 1st, 2017)
*Project Office for Big Data and AI was newly established on April 1st, 2017.