How to contact with Center for Computational Sciences
Office of Center for Computational Sciences

| | |
| --- | --- |
| Address | 1-1-1,Tennodai Tsukuba, Ibaraki 305-8577, Japan |
| Phone | +81-29-853-6487,6488 |
| FAX | +81-29-853-6406,6489 |
| E-MAIL | jccs [at] un.tsukuba.ac.jp / pr [at] ccs.tsukuba.ac.jp |
| URL | http://www.ccs.tsukuba.ac.jp/ |
Access to Tsukuba Campus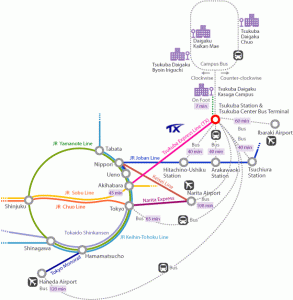 The City of Tsukuba, the Science City, is located about 50km north-west of the New Tokyo International Airport in Narita. The Narita-Tsukuba-Tsuchiura shuttle bus service takes 90 minutes to reach Tsukuba from the Airport via Route 408.
The shuttle bus leaves the Airport from a desigated stop outside of the terminal buildings at the following times: 7:20 9:05 10:35 12:50 14:35 16:15 17:20 18:40 20:00. The ticket costs 2,500Yen, to be purchased at the counter inside the terminal building prior to boarding.
Taxis take about 90 minutes to reach Tsukuba from the Airport and costs about 15,000Yen. Taxi stands outside the terminal buildings are separated depending on destinations. Locate the stand for Ibaraki prefecture area, and tell the driver to go to Tsukuba Science City.
See "Access to Tsukuba" and "Access to the University of Tsukuba from Tsukuba Station"
See TX Time Table https://transfer-train.navitime.biz/tx/trains-timetable?target=weekday&direction=1&lang=en
Access to the Center for Computational Sciences
from Tsukuba Center
The University of Tsukuba Loop-line On-campus Bus (Migi-Mawari, Hidari-Mawari)
Bus Route
| Time Table
|
The nearest Bus stop is "第一エリア前 Dai-Ichi Area Mae"
Access MAP to the Center for Computational Sciences