CCS International Symposium 2021
Date and Venue /Zoom / Program / Registration  
---
Today, computational science is an indispensable research methodology in the basic and applied sciences and contributes significantly to the progress of a wide variety of scientific research fields. For multidisciplinary computational science based on the fusion of computational and computer sciences, frequent/regular opportunities of communication and collaboration are essential. Center for Computational Sciences (CCS) at the University of Tsukuba aims at improving such collaborations between different research fields. In this symposium, plenary speakers in various fields of computational sciences will give us talks on research frontiers, comprehensible to researchers and graduate students in other fields. In 2010, the CCS was recognized under the Advanced Interdisciplinary Computational Science Collaboration Initiative (AISCI) by MEXT, and has since provided the use of its computational facilities to researchers nationwide as part of the Multidisciplinary Cooperative Research Program (MCRP). The symposium will be held online in a similar form to last year's.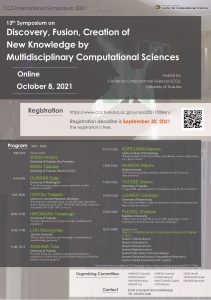 [PDF]
Date and Venue
Date:Oct. 8, 2021 [Fri] 
Venue:Online
Zoom (Plenary session) 

Program  (tentative) *All times below are in JST (GMT+9)
Registration
Participants should finish the registration by September 30, 2021. Presenters of the progress report of the MCRP-2020 projects must do it by September 15, 2021. The Zoom link (passcode) will be sent to registrants, just before the symposium. The registration is free but mandatory.  
Organizing Committee
AMAGASA Toshiyuki
HARADA Ryuhei
HINOHARA Nobuo
INAGAKI Yuji
KAMEDA Yoshinari
KUSAKA Hiroyuki
NAKATSUKASA Takashi
OTANI Minoru
OHNO Hiroshi
TAKAHASHI Daisuke
WAGNER Alexander


Contact: ccssympo21[at]ccs.tsukuba.ac.jp