CCS International Symposium 2018
Dates and Venues / Registration / Program / Access information 
---
Today, computational science is an indispensable research methodology in the basic and applied sciences, and contributes significantly to the progress of a wide variety of scientific research fields. For multidisciplinary computational science based on the fusion of computational and computer sciences, frequent/regular opportunities of communication and collaboration are essential. Center for Computational Sciences (CCS) at University of Tsukuba aims at improving such collaborations between different research fields. In this symposium, plenary speakers in various fields of computational sciences will give us talks on research frontiers, comprehensible to researchers and graduate students in other fields. In 2010, the CCS was recognized under the Advanced Interdisciplinary Computational Science Collaboration Initiative (AISCI) by MEXT, and has since provided the use of its computational facilities to researchers nationwide as part of the Multidisciplinary Cooperative Research Program (MCRP). Now, from 2019, this program is open worldwide. In the symposium, recent results of the MCRP (2017 & 2018) will be reported.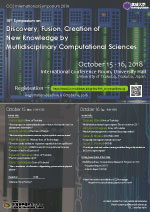 [Poster PDF]
Dates and Venues
Dates:Oct. 15 [Mon] - Oct. 16 [Tue]
Venue:International Conference Room, University Hall, University of Tsukuba, Tsukuba, Ibaraki, Japan
Program (tentative)
Oct. 15 (Mon)
Oct. 16 (Tue)
*For invited speakers
Please bring a VGA adapter to connect your PC with the projector.
**For poster presenters
Panels of 85 cm (W) x 205 cm (H) are available. We recommend presenters to prepare posters in English of A0 size.
Registration
Participants should fill out the registration form at "On-line registration" by October 4, 2018. The registration is free, and the reception fee is 4,000 JPY. 
[The registration closed. The on-site registration is available.]
Access information
– From airports to Tsukuba Center
There are two airports, Narita and Haneda, in the Tokyo area. For the access to Tsukuba, Narita Airport is more convenient than Haneda. The direct highway bus to Tsukuba from Narita airport is available roughly every hour, and it takes about one hour. From Haneda airport, there are also direct bus to Tsukuba, but the service is less frequent and it takes about two hours.
– From Tokyo to Tsukuba Center
Rapid trains of Tsukuba Express (TX) Line bring you to Tsukuba station from Akihabara station in Tokyo in 45 minutes. See the following maps:
* Tsukuba Express Line (http://www.mir.co.jp/en/route_map/index.html)
* Tokyo Metro (http://www.tokyometro.jp/en/subwaymap/)
– To University of Tsukuba
Please take on a bus at No.6 platform in Tsukuba Center (Tsukuba Station) and get off the bus at the bus stop "Daigaku kaikan mae". It takes about 3 minutes from the bus stop "Daigaku kaikan mae" to university hall.
* University of Tsukuba Access map page
* Campus map of University of Tsukuba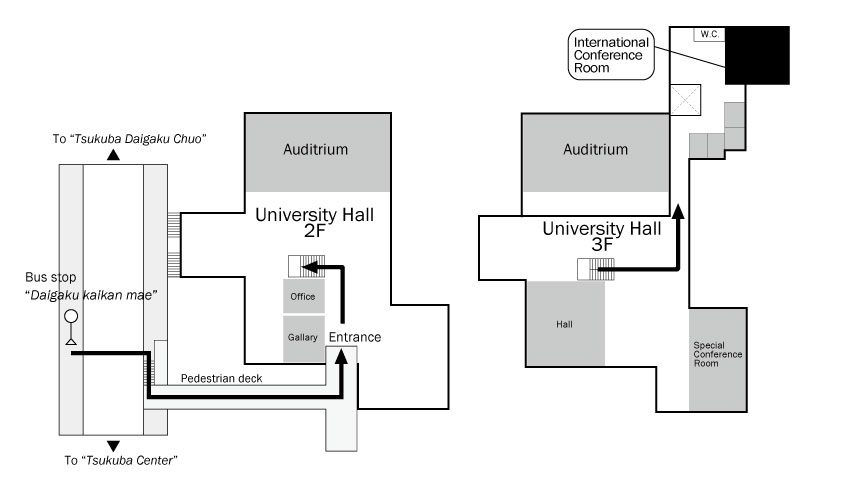 Organizer
Center for Computational Sciences, University of Tsukuba